Google Adwords Agency in Dubai
No other advertising platform offers the same breadth and depth of engagement with targeted customers  (those who are actually looking for your goods and services) as Google, providing higher lead generation and conversion rates.
Google Ads also allows you to market your company outside of Google sites. Your advertisements could be placed on various websites and display networks. Because of the platform's evolving environment, you can change your Ads at any time to target certain audiences. There is no minimum spending limit with Google Ads, and you can alter your budget at any moment.
.
Wisdom offers top-notch Ads management services in Dubai to help you extend your company's reach. 
"We believe in developing innovative, flexible, and comprehensive solutions.."

—Wisdom IT Solutions "We believe in developing innovative, flexible, and comprehensive solutions.."

—Wisdom IT Solutions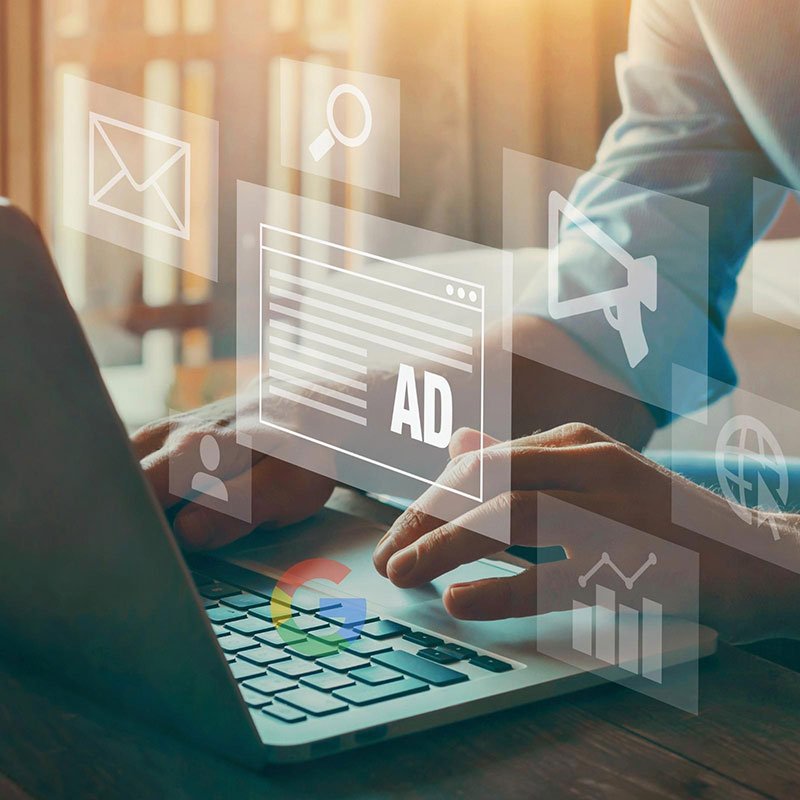 Wisdom is an SEO, digital marketing, and web development organization that helps major national and international companies in the UAE, and the Middle East, increase and enhance their online presence and reach out to more users and potential customers by providing excellent digital services and solutions. Wisdom provides complete Google AdWords services to help you reach a wider audience and increase conversions.
Google Ads Management Services We Provide
Through our highly customized Google AdWords management services, we have already been helping big local and international companies operating in the Middle East in their growth for the past 21 years. On the platform, we provide a number of services:
Campaign Setup & Targeting
We can help you set up a Google AdWords account and create a targeted campaign to promote your products and services. The campaign will be tailored to your specific client segment.
Wisdom can manage your Google AdWords account and measure the number of leads, conversions, and revenue generated. We can also guide you in developing it to better collect the specific type of data that you may require in order to fully understand the results of your marketing activities and, as a consequence, improve them for better results.
We offer unique, interesting, and effective content to help you boost your advertising efforts, generate more leads, and increase conversion rates.
Reporting and Optimization
We give you the consistent and tailored outcomes of your campaign efforts in a clear and easy-to-understand format throughout the long term. We'll also make recommendations on how to improve the effectiveness of your campaign and make it more appealing to your target demographic.
Well Optimized Ad Campaigns Produce Extraordinary Results
If you've signed up for Google AdWords, your ad may appear at the top of Google's search results whenever a potential client types in a search that matches the services you provide. First, the most significant advantage of Google AdWords would be that it works faster than Search engine optimization. SEO and Google AdWords both are search engine marketing tactics for increasing targeted traffic.
A well-optimized AdWords strategy can perform significantly faster for a company to get the highly-coveted top position in searches. This is why Google AdWords is so effective it connects you with a highly targeted group of buyers who are actively seeking your services. Even now, your consumers are looking for you, and we can help them discover you. Call us today for free consultation.
Although Google AdWords is a pay-per-click service, you only pay when a potential consumer clicks on your ad, making it one of the most feasible and cost-effective advertising options available.
Customized Google AdWords Campaigns Can Help Your Business Grow
Are you looking for a better digital marketing solution to
help your company expand faster?