iOS App Development Company In Dubai
Upgraded iPhones and iPads are released by Apple regularly. As a result, you must ensure that the IOS app you want to publish on the iStore is future-proof. Furthermore, to get an unshakeable position in the market, your iOS business application must be extremely scalable and competitive.
Wisdom IT Solutions has extensive expertise in developing sophisticated iPhone apps for forward-thinking businesses and startups in a variety of services. In the field of iOS application development, Wisdom is a recognized leader in iOS App development in Dubai. Some of our clients are innovative startups, healthcare companies, educational institutions, retail businesses, entertainment companies, sports teams, non-profits, and other organizations.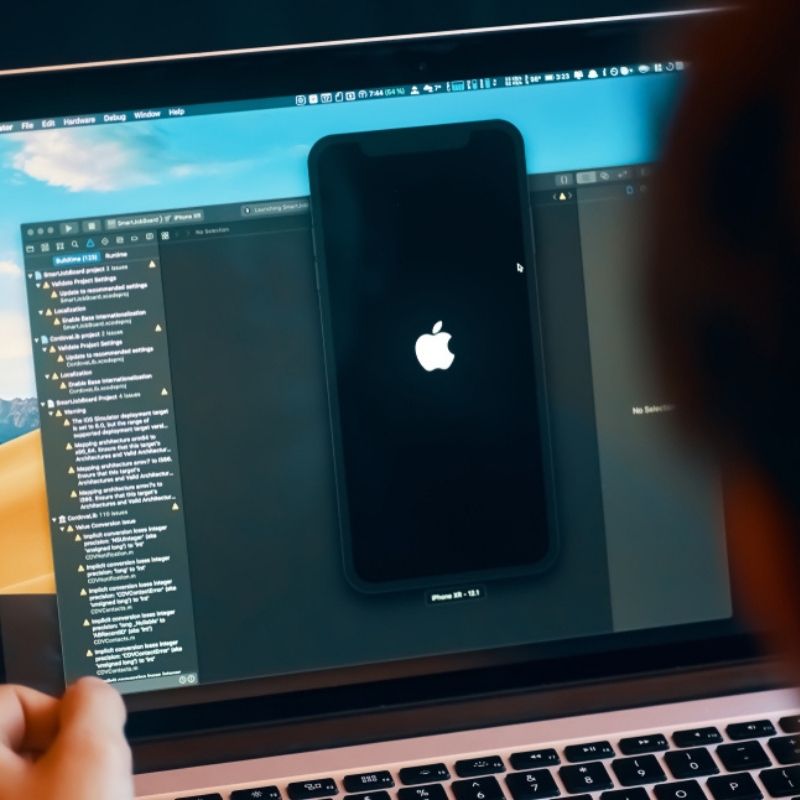 Raech to Apple Customers Trough IOS APP Development Company
Wisdom is an iOS app development company that specializes in creating cutting-edge applications that provide a seamless user experience for iOS devices. We have a team of skilled developers who stay updated with the latest iOS development trends and best practices to deliver high-performance and feature-rich iOS apps. We take a holistic approach to iOS app development that begins with a deep understanding of our client's business goals and user requirements, followed by thorough research, planning, and design to create the best possible mobile application. Our team is proficient in Swift, Objective-C, and other iOS development technologies, ensuring that we can create robust and scalable iOS applications. We are committed to delivering superior apps that meet Apple's guidelines and app store policies, ensuring that your iOS app will be a success.
iOS App Development Company In Dubai
Wisdom is Dubai's No. 1 iOS App Development Agency, providing unrivaled iOS app development services for all key industry verticals like logistics, education, healthcare, retail, finance, travel, transportation, fitness, and more. Our iPhone app development firm uses a creative approach and cutting-edge app development technology to create the best-in-class mobile shopping experience for iOS app users and increase conversions for your business.
Our team uses strategies, ideas, and in-depth market analysis to develop high-quality output and give the finest iOS solutions to our clients.
We use iOS solutions to make significant improvements that have a significant impact on your organization, starting with the basics and progressing to the most complex levels. In every step we take toward achieving our goal, we look for innovation as a key criterion.
The iOS applications we produce not only elevate your business to new heights but also allow users to learn more about your brand and the products you provide regularly, resulting in increased user engagement and the formation of an online community. Mobile applications that are responsive, lightweight, and fast may undoubtedly make significant improvements in a short period.
Before releasing a product to the market or delivering it to our valued clients, we put it through rigorous testing at multiple stages before introducing iOS solutions to them. When you choose the top iOS app development firm in Dubai, you can anticipate a bug-free, error-free, and clean iOS application solution for your organization.
Even after the project is done, Wisdom-AI provides technical assistance. At a very low price, the leading web development and mobile application development firm in Dubai provides lifetime technical support.
Overview Of iOS App Development Services In Dubai
When it comes to formulating and producing the greatest iOS solutions for the business, a thorough awareness of the present market is essential. With their significant analytics talents, we are lucky to have a strong experienced team of professional iOS developers who hold the highest degree of accuracy and cater to industry-leading concepts. As a result, Wisdom has established itself as the top iOS application development company in Dubai.
We produce a fully functional, professional corporate website on schedule and walk you through the entire process of monitoring and managing it from beginning to end. You'll be able to handle the full content distribution process on your own after the knowledge transfer is complete, and you'll be able to tweak the layout as needed. We'll always be right with you if you have a technical problem, and we'll do all we can to solve it as soon as possible.
We Make iOS Applications for all Apple Devices
Are you looking for a Breathtaking iOS App Development to
help your company expand faster?