Magento Ecommerce Website Development in Dubai
Wisdom IT Solutions has been one of Dubai's most significant digital marketing agencies since 2006. We offer our dominant services to all kinds of big and small businesses. We create a high-quality and multiple-component Magneto website; you must be experienced in web development. Our top professionals are here to help you to win more customers through your Magento site. As experienced Magento web developers in Dubai, we have specialists who create your desired, customized eCommerce websites according to your business requirements. We make sure that your website is both aesthetically pleasing and user-friendly. Meet our team and discuss your Magento eCommerce web development issues. Take time and enjoy the successful step in your online presence. 
Wisdom and Magento Ecommerce Development Company Dubai
In Dubai, Wisdom has a top-tier team to meet your needs. We understand your website's needs and give your customers a great experience during shopping. Our Magneto eCommerce development team has professional abilities catering to your website needs. We give you a website that is easy to use, responds quickly, and navigates on all devices. Our Magneto development team creates your websites and customizes them for payment gateways, API, etc. We help you to select the suitable plugins that will be the best and right option for your business requirements. At our development company in Dubai, With Magento development, our SEO specialists will optimize your Seo website and make your business easy to find on Google's first page. Our team tested digital marketing techniques to advertise your company on many internet channels. Our ruling formulas will drive more revenue and visitors to your site.
Our Magento eCommerce website development services
With our proven and customized Magento eCommerce web development solutions, your business will give you skyrocket results in Dubai. You will work worldwide according to your ideal needs. Our most active developers and website designers stay up-to-date, secure your website's future, and ensure your Magento site is in reliable hands. Below are the Wisdom's providing services:
Custom Magento Development
Our team of developers offers specialized website services using the most current Magneto specifications. This procedure will immediately address your company's needs. To improve your buyer's experience and online presence, our experts will build a website that displays and reflects your company's identity.
Magento Theme Development
Our expert developers create your random website and make its themes easy to see and use for you and your customers. Moreover, every website viewer will see how beautifully all your website pieces align according to your product's nature. Then this visual satisfaction will urge them to buy your product.
Magento Extension Development
When you work with us, we not only provide you with our past services, but we will also offer our best solution-based extension for your websites. Now you won't suffer with any website technical operation. And you will improve your website capabilities with our services. 
Magento Integration Services
The third-party proof on your eCommerce website, including the payment and shipping procedures and other ERP systems connected to your Magneto site, will be improved by this integration approach. Our team will offer solutions for smooth integration to meet your business needs better. 
Advantages of Our eCommerce Websites Development Services for Magento
Read how Wisdom would be beneficial for your Magneto eCommerce site:
The result-oriented solution to protect your website data

Proven and tailored Magneto web solutions for your business.

Easy-to-use interface which will increase your positive customer experience

SEO-optimized and featured-approved website, which will improve traffic and sales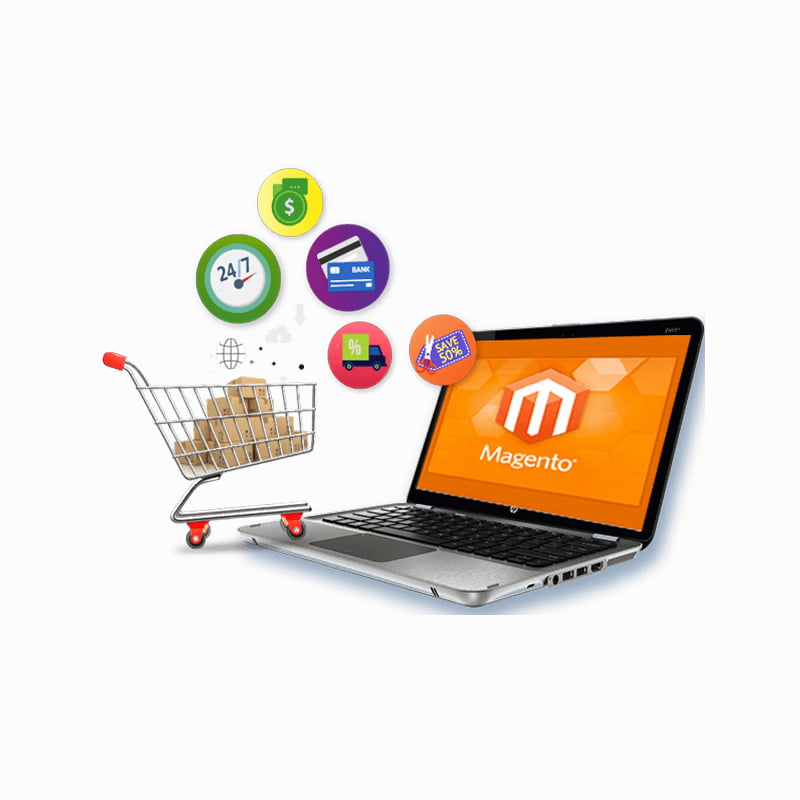 With the most modern ecommerce system, you can take your online business to the next level.
Magento provides a professionally created shopping cart and online stores that are easy to browse for your end customer, whether it's a small-size company set, a startup project, or a major retail enterprise with full-scale departments.
At Wisdom IT Solutions, we provide you with our best Magneto web development services with high-quality results. Wisdom has a group of many talented Magneto eCommerce developers who are ready to support you in moving and optimizing your e-store.
Go no further than Wisdom IT Solutions if you're looking for a reputable and skilled Magento development firm in Dubai to build a unique eCommerce website that satisfies your company's needs and objectives. Contact us for the right way to discuss your Magento eCommerce website development needs and take the first step toward online success.
Magento provides your website the scope for scalable and safe online operations by providing a choice of options to fine-tune your ecommerce endeavor.
With our Magento Ecommerce Development solutions, you can lay a strong foundation for your online business.
Frequently Asked Questions
Are you looking for an Exciting Magento eCommerce development services to
help your business grow faster?