Magento Ecommerce Website Development in Dubai
Have you ever wondered why major businesses like Omega, Canon, and HP choose Magento ecommerce development to power their online stores? Not only do they utilize the Magento eCommerce platform, but so do major competitors like Timex, Olympus, and Acer, as well as hundreds of other huge firms like Ford and Samsung. Why? Because Magento meets their demands… and it can meet yours as well, if you have the proper developers on hand.
In our web development team at Wisdom, we have a group of qualified Magento eCommerce development and designers team who can help you with anything from Magento migration to integration, speed optimization, support, and custom e-store building. They've worked with all versions of Magento for many years and have extensive knowledge of the platform.
Wisdom & Magento Ecommerce Development Services
Since the beginning of internet shopping in Dubai, Wisdom has been active in ecommerce web development. We've worked with established brands and organizations, as well as startups, in a variety of sectors around the UAE, providing unique ecommerce development solutions to help them grow. We are not only experts in Magento ecommerce development, but we also offer ecommerce solutions for other platforms.
What is it about Magento that makes it so interesting?
Here are a few of the characteristics that propel Magento to the forefront of the ecommerce world.
Has a Stable Shopping Cart.
Advanced Admin Roles are available (Super-Admin).
Allows for the creation of multiple stores.
Faceted Search or Product Filtering is possible.
Product & Catalogue Management Made Simple.
Multiple language options are available.
Accepts a variety of different currencies.
Has a number of effective marketing tools.
Flexible Payment Gateways are available.
Provides a variety of shipping options.
Offers a lot of advanced SEO options.
Extensions are pre-installed.
Powerful analytics and reporting are available.
eBay integration is available.
API Integrations are available.
We Provide Magento Ecommerce Development Services:
Our in-depth understanding of the platform and extensive expertise enables us to meet all of your requirements.
Development of Magento store
Magento installation, customization, and development.
Magento theme design.
Magento extension development.
Plugins and modules.
Magento migration or upgrade.
PSD to Magento.
Integration of ERP, POS, and CRM systems.
Magento support and maintenance.
Development of mobile applications.
Magento may be the appropriate option for you if you believe your business has expanded or your current platform isn't paying off as promised and you desperately need an ecommerce update. We can help you convert your store from nearly any platform to Magento, including Shopify, WooCommerce, and others. Because the migration is carried out by authorized professionals, you can be certain that no data will be lost along the way, and that everything from the design to the items, catalog, orders, and user information will be safely transferred.
Magento Store Development
If you're a shop thinking about going online, we can help you design and construct a beautiful, developed Magento e-commerce responsive store that will increase engagement and conversions.
We don't abandon you after deployment; instead, we stay available to meet your requirements. Whether it's speed optimization or implementing a new feature, our staff will be there for you 24 hours a day, 7 days a week.
Magento Hosting and Management
We can also help you with hosting and management so that you can concentrate solely on your company's growth and profit. For worry-free retail operations, our hosting solutions provide optimal uptime.
Your store can appear like every other developed Magento e-commerce store if you don't customize it. We have experience adapting Magento to meet your company's needs and tastes, from building custom themes to adding extensions and plugins.
Magento supports a wide range of connectors, including CRM, POS, ERP, and more. These connections assist you in better managing your shop and increasing revenue. You will be able to know your consumers, their behavior, activities, and purchase patterns, for example, thanks to CRM connectivity. All of this data may be utilized to increase upselling and cross-selling opportunities. We have qualified developers at Wisdom who can do integrations. We understand your needs and recommend that you make a backup before beginning the process to avoid any mistakes.
Wisdom- Magento Ecommerce Development Company Dubai
Since 2001, Wisdom has been a prominent player in the development of e-commerce marketing in the UAE and the Middle East. We've used the newest technology to supply our clients with pleasant solutions thanks to our Magento eCommerce development expertise. For more than a decade, we've been utilizing Magento to create online stores for our clients. We are now Dubai's premier Magento eCommerce development business. Wisdom's Magento developer team is highly skilled and experienced in utilizing the platform's full possibilities for your e-commerce project. We can create feature-rich, user-friendly online storefronts that provide your clients with the finest purchasing experience possible.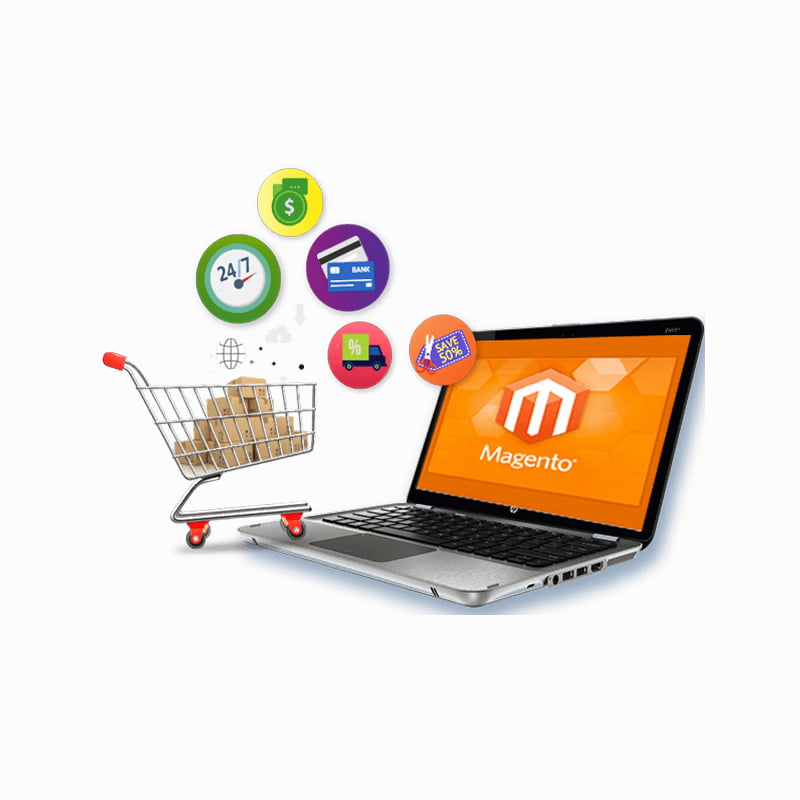 With the most modern ecommerce system, you can take your online business to the next level.
Magento provides a professionally created shopping cart and online stores that are easy to browse for your end customer, whether it's a small-size company set, a startup project, or a major retail enterprise with full-scale departments.
We can turn your run-of-the-mill online store into a shopper's joy as an experienced Magento ecommerce development company in the Middle East. Our custom-tailored e-commerce websites developed on this platform can help you outperform your expectations in terms of sales.
The top-notch feature of the Magento eCommerce solution is easy SEO. It has a built-in SEO tool that can help you to add Meta Title, Meta Description and generate Site Map for Google.
Magento provides your website the scope for scalable and safe online operations by providing a choice of options to fine-tune your ecommerce endeavor.
With our Magento Ecommerce Development solutions, you can lay a strong foundation for your online business.
Frequently Asked Questions
Are you looking for an Exciting Magento eCommerce development services to
help your business grow faster?