5 Best Platforms to Start Your eCommerce Business in UAE
eCommerce business model has been growing its roots all around the world. In the UAE, the eCommerce business model is one of the most rapidly growing businesses. 
Especially, during COVID-19, when there were many restrictions, the digital world saw an evident shift in consumer behavior and a swift increase in online shopping. Many new online shops started their operation, and a number of them are still running successfully. 
Why Should You Start an eCommerce Business?
eCommerce is a whole world of opportunities. There are many benefits of an online shop. It is not only convenient for consumers but opens new doors of opportunities for you as well. 
If you are looking for a business model that doesn't cost you an arm and a leg and pays you a good return on investment, considering eCommerce is a must. 
With a well-designed eCommerce store, you can initiate an eCommerce business by listing the products, receiving payments, and handling shipping while sitting at the office or even in your bedroom. However, selecting the right product to sell is the key to your success. 
Another important thing that has a huge impact on your eCommerce business success is choosing the right platform to create your store. There are many platforms available in UAE where you can create your online shop. You need to choose the one that best suits your requirements. 
In this article, we will discuss the five best platforms to build an eCommerce store for UAE.
5 Best eCommerce Websites for UAE Audiences
There are more than hundreds of eCommerce websites available in the United Arab Emirates (UAE). These eCommerce websites allow the owner to list their items accordingly to the customer's needs. 
So, they can easily select the right website they are looking to buy products from. Move forward and discuss the five best platforms to build an eCommerce website thoroughly.
The first one we would recommend is Souq.com, which is the fastest-growing online eCommerce website in the Middle East. Souq.com offers you the easiest, quickest, and most effective way to run your eCommerce business. 
After Amazon took it over, it is now known as Amazon. ae. It does not require a large investment to start your eCommerce business. Therefore, it is a good option for you if you don't have a huge investment. 
In UAE, Souq (Amazon) is considered one of the most popular online stores for customers. Retailers display their products like electronics, gadgets, healthcare, interior, cosmetics, furniture, and clothes on this online shopping store. 
It is popular among consumers due to its user-friendly design, Cash-on-Delivery payments option, and quick customer service.  
Noon is one of the largest eCommerce platforms in the Middle East. It is the best online shopping platform for an eCommerce business startup in UAE. Customers can feasibly find and buy new, used, and refurbished items over there.   
The primary importance of Noon.com is that retailers have complete control over their stores, products, and customer queries. 
Noon has become the most popular eCommerce platform for retailers to expand their businesses all around the UAE.
Customers and sellers both are taking advantage of this eCommerce Online Shopping website. This website offers items, such as fashion accessories for men and women, toys, electronics, household amenities, and many others. The best thing about noon.com is customers can also purchase grocery items from this eCommerce platform. 
Ounass is a rapidly growing eCommerce website in UAE. Ounass is the Middle East's best luxury website providing luxury brands such as Dolce & Gabbana, Balenciaga, Gucci, Valentino, Emporio Armani, and others. 
It provides an online platform where you can easily purchase branded bags, jewelry, clothing, as well as shoes. 
Ounass is a dynamic website in the UAE. In the last few years, this eCommerce website has become a big name in the eCommerce industry.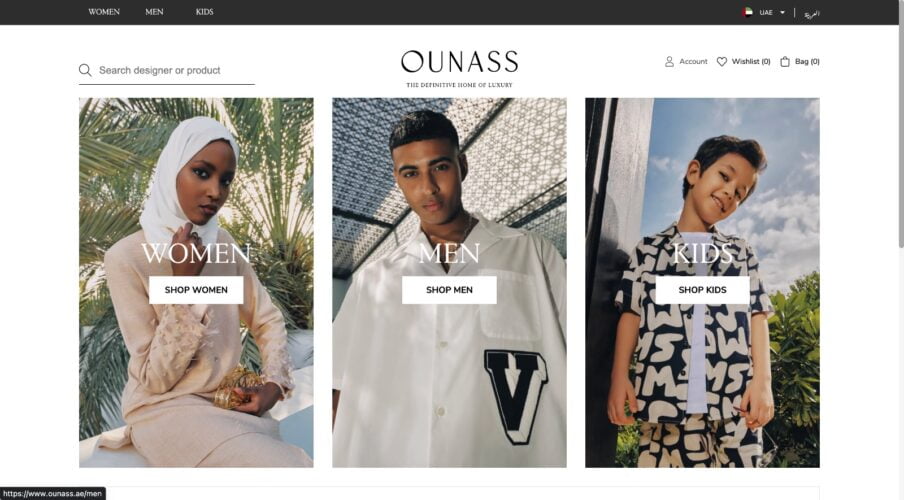 Ounass online shopping platform in UAE is offering fast delivery, customer service, and amazing discounts on products. The best thing about Ounass is they are providing free delivery within two hours. 
In addition, they deliver products all around the UAE at the given time.  For customers who are not comfortable using credit cards, Ounass provides the option of cash as well. 
The fourth one I would recommend is LetsTango. It is a fastly growing online store in UAE. It was started in 2013 by  Dikran Tchablakian. 
This website offers a wide range of products including electronics, gadgets, men's and women's fashion, automotive, as well as gourmet foods.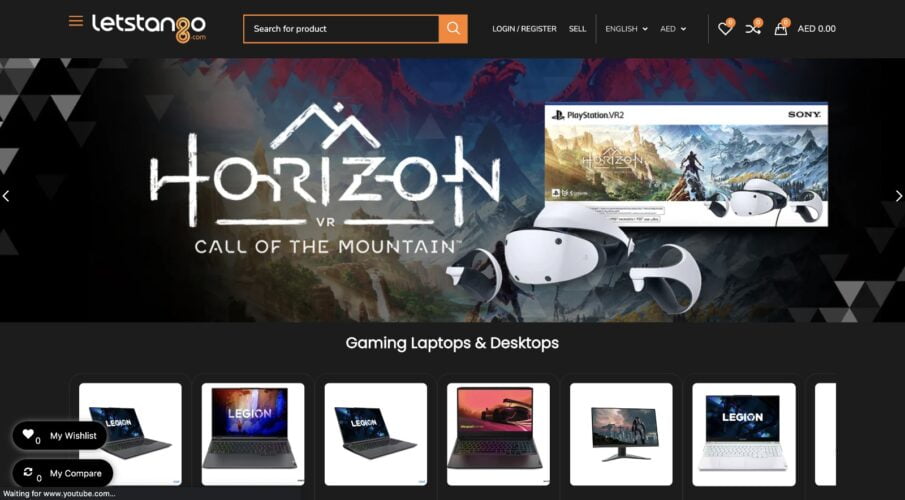 LetsTango is a safe and convenient online store where customers can easily get their delivery within 24-48 hours across the UAE. Having said this, LetsTango provides excellent service to its customers. Additionally, they offer free shipping for all orders above 200 AED.
They are the same as Ounass when it comes to payment methods. They offer both cash on delivery and credit card on delivery. They also use chatboxes for customers to provide fast buying assistance.  
Carrefouruae.com is the largest online shopping store in more than thirty countries in the Middle East. Carrefour's online shopping store provides the customer with a user-friendly environment.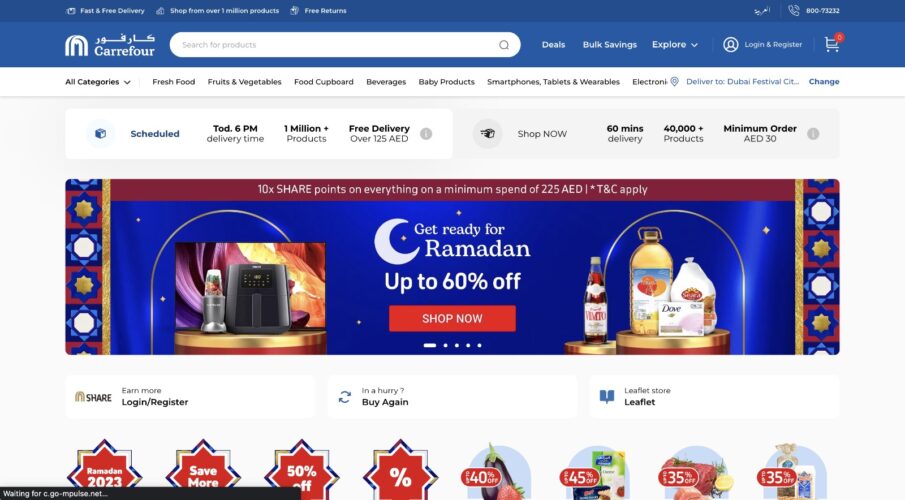 Carrefour offers all types of products that will make your business successful in the UAE. These products include 500,000 food and non-food products, health and beauty, household, Laptop and IT, Leisure, Travel, Sports, and a wide range of the world's luxury brands.  
Carrefouruae is an ideal shopping market, as the customers can easily provide the information with minimum possible clicks. The main advantage of the carrefour online shop is that the products are categorized accurately. In this way,  customers can easily explore the items they want to purchase.  
Furthermore, Carrefour also considers being the best platform to build an eCommerce website for the UAE audience. Additionally, the best site to start your eCommerce business because it provides hassle-free shopping to the customers. 
In the above article, we have discussed the top five ecommerce platforms in Dubai, UAE. 
Now a day ecommerce industry growing day by day with the help of digital marketing in Dubai. Many IT companies provide the best eCommerce development solutions and they play the role of a pillar.
A lot of businesses move towards eCommerce to reach more customers and make an online presence. Wisdom IT Solutions is one of the best ecommerce development agencies that helps eCommerce businesses in Dubai through eCommerce website design and development and digital marketing services to craete stunning and engaging online business opportunities for their customers and increase sales and ROI of the business.