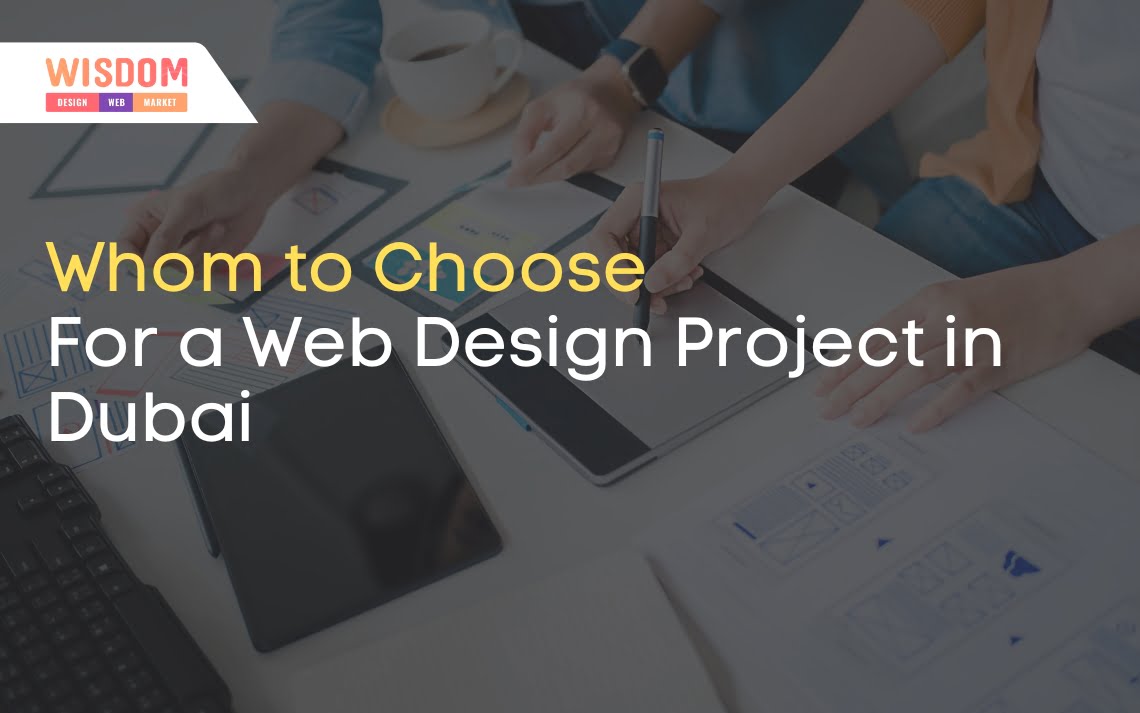 Whom to Choose for a Web Design Project in Dubai
As the world is moving online so fastly, this is the right time to bring your business online as well. If you haven't started your online journey yet or you want to improve your online presence with a redesigned and updated website, this is high time to do this. 
Designing and developing a web project is of high importance. The process itself is not only time-consuming, and expensive if you are hiring someone, but also a website has a huge impact on the future of your business. 
A website is an extension of your business to the digital world. It is the first official medium through which your customers come in contact with you. Your website is a representation of who you are and what you do. 
No doubt, creating a website is a challenging process. You need to be careful during the whole process – from choosing the right approach to create a website to finalizing its design and how it is developed. 
There are different approaches, businesses take to create a website. I don't think it will be fine to call an approach the correct one and the other wrong. Every route you can to create your website has its own pros and cons. 
In this article, we will be discussing different ways you can create a website, what could be the quality of the end result, how much cost is usually involved in the project, and It can impact your business.
Web Development - Custom Designs Vs Template Driven
Once you have decided to create a website, the first question that might hit you would be do I go with a custom design or use a template. Well, it usually depends on the requirements of your business and how you want to reach your target audience. 
If you are looking for a brand-driven website, custom design is a better option. It allows you to incorporate features and functions according to your business needs and marketing goals. 
However, custom designs take longer, sometimes months, to deploy which could not be feasible for many businesses in the beginning. Also, custom designs are costly, and it is difficult for startups and businesses to get a custom design website. In such a case, a template website is a better option. 
Let's have a look at the differences between the two. 
1. Custom Design Websites
A custom website is created from scratch. All the features – from information architecture to the navigational structure, from graphics to functions, and from back-end to the front-end – are designed on the basis of your unique business structure. 
SEO plays a vital role in the success of any business website. While building a website, there are certain best SEO practices that should be followed. However, many themes do not fulfill these practices, and thus, are not abiding by SEO rules. 
Therefore, custom-built websites are much superior as far as SEO is concerned. Developers are able to optimize your site during the creation process and allows Google and other search engine bots to read and rank your content for users. This is beyond keyword research.
A custom-made website is unique that is able to incorporate your company's branding and based on your business requirements. It also allows you to add more functions to your site as your business grows. 
However, there is a whole team behind a custom-built website, and thus, it costs much more than a template drive website. Still, if you are looking for a unique website customized according to your requirements, and you are not on a tight budget, a custom website is always better for your business. 
2.Template Driven Websites
While custom websites allow countless customization and design possibilities, they are not feasible in every case. Usually, for startups, an online presence with a simple website is enough. In this case, a pre-built or template-driven website is a good choice. 
Template websites are also a better choice for businesses with a tight launch deadline, limited content to present, or a limited scope and budget. 
Themes and templates usually come with built-in basic features with a little room for customization. However, it may cause a bad impact on the website load speed and in terms of its SEO performance as well. 
You may also have to keep all functions and designs even if they are of no use to you. You may pay a developer to fix such issues, but only a single update can cause your site to face various issues. 
If you decide to use a theme or template for your site, many other businesses might be using the same theme. Therefore, your site wouldn't stand out. With limited customization, your site might not work on all devices. 
However, if you are on a tight budget or you can't wait for longer to launch your website, you can go with a template or a theme. 
Web Development - Freelancer Vs an Agency
If you have decided to create a custom website for your business, you must be wondering whether to hire a freelance web developer or work with an agency. 
Only having a website cannot help you achieve your business goals. For a successful business, your website should offer a great user experience, have a visually attractive design, etc. 
Before your start looking for someone to revamp, redesign, or create your website from scratch, you need to understand the difference between freelance developers and an agency. 
Making the right decision for choosing someone to create a website for your business is crucial. This decision should be made on various factors. These factors include the skill set your business requires to reach its objective, budget, and compatibility between your website and project manager. 
Let's understand the differences between the two and the pros and cons of working with any of them. 
1.Working with Freelancers
People may have different reasons for working with freelancers, but the major benefit most people find in working with freelancers is the low cost. Most businesses, especially startups and small ventures, prefer freelancers because they are inexpensive as compared to an agency. 
Usually, freelancers set their own price, and mostly, they are flexible with it. The low cost sounds prudent, but you need to make sure that the quality isn't compromised. Besides the cost, while working with freelancers, you can get involved in the creative process. 
However, freelancers work solo, so most probably, you end up hiring more than one freelancer specialized in different aspects of website designing and development. Or you may have to find a different freelancer to fix the errors in the website, and need to pay an extra amount. 
Moreover, most freelancers have a slower turn-around time as they are working on different projects at a time. With multiple projects at a time, the attention, focus, and dedication go down, and the possibility of errors increases. 
If you don't want an extensively functional website and have a limited budget, working with a freelancer is a good idea. You can also use a freelancing portal to hire a developer. 
Usually, these portals have a rating system for freelancers. Select a developer with a good rating. You can also have unlimited revisions until you get satisfied if already communicated. 
2.Working with Web Development Agencies
Hiring a web designing and development agency is a little more expensive, but they are more credible as they have to look after their reputation as well. Most full-fledged agencies are registered with authentic organizations and they have to uphold their reputation among their community and in the market. 
An agency has a team of specialists including their own designers, developers, content writers, and SEO specialists. They offer you a complete package to launch a fully functional website ready to get ranked on the SERP. 
You may need to pay them more than a freelancer, but not to worry about the hassle of hiring multiple freelancers to complete one project. When multiple specialists work on your project at a time, it also helps you get better results in less time. 
Agencies also have access to advanced technology, therefore, they come up with better and reliable outcomes for your business. 
However, most of these agencies have physical offices with multiple specialists and because of this, their rates are quite higher. 
If the cost of the project is not a big deal for you, and you want high-quality aspects for your website, nothing could be better than working with a team of designers and developers within an agency. 
Web Development - Outsource Vs an In-House Team
Another way of getting a website ready for your business is either outsourcing the project or hiring an in-house team of developers. Like any other way, both ways have their own pros and cons. 
If you want to outsource your web development project, you hire a third party to do this job for you. In most cases, such a company takes care of all aspects of your website on its own. 
An in-house team is a group of website designers and developers that is hired by the company. This team creates and maintains web solutions for their employer. 
Choosing one or the other depends on certain factors like the budget, type of project you need, skills required, and turnaround time. 
1.Outsourcing Your Web Development
Outsourcing a web development project involves hiring a third party for creating and maintaining your website. Such a company has a team of well-trained IT specialists who work on your project. 
The process starts with signing an agreement and conveying your requirements to the company. Many companies prefer outsourcing because of its low cost and possible scalability. Some of the most famous companies like Google also outsource their development projects. 
Outsourcing is especially cost-effective for you if you are operating from a place where such talent cost higher. You can outsource your work to a country where salaries are considerably low for the same level of expertise. 
It also allows you to work with more talent options as compared to an in-house team where you have a limited choice of candidates. Some projects need special devices that themselves cost much. In the case of outsourcing, you don't need to worry about such additional costs. 
However, when you outsource, the team might not be working solely on your project, therefore, you have very little to no control over the progress and turnaround time. You may also face issues because of a lack of communication. 
In short, if you have too many projects to handle at a time but not enough to justify an in-house team, outsourcing is for you. 
2.An In-House Development Team
For in-house development, you hire developers and make a team of your own. You get developers on board depending on the skillset and expertise required for the product. 
PayPal and Amazon have an in-house development team that gives them total control over the project, though the cost is higher. 
The process of hiring in-house developers is the same as hiring other permanent staff for your office. You go through recruiting, interviewing, and hiring to build an IT team for your company. If the main focus of your business is an IT product, then hiring in-house developers is viable for you. 
When you build your own IT team, you can get it aligned with your company's culture. It allows the whole team to work in synergy to obtain better results. 
With an in-house team, you also have an opportunity to communicate directly to the team explaining to them the odds and outs of a project. You can have face-to-face communication with the team to discuss details and finalizing a project's requirements. 
With all these benefits, the cost of hiring in-house developers is way more than outsourcing, and many startups and small companies can't afford it. You also need to add the cost of upskilling your employees as the IT industry goes under constant changes with the evolution of new languages, tools, and technologies. 
In a nutshell, if you are running an IT-based company, getting in-house developers onboard is a more logical option for you. 
Web Development - Newbie Vs Experienced Web Developers
In any professional field, one of the main factors hiring managers use to pick up the right candidate is their experience. Each industry has its own system to show how much time a person should be in the field to be labeled as experienced. 
In the IT field, what makes a person experienced varies depending on the candidate and the company's requirements. Usually, a person with at least five years of software development experience is considered an experienced developer. 
Many companies prefer hiring senior or experienced web developers. No doubt, hiring experienced developers can be useful in many ways. They bring years of experience, knowledge, and potential high-level connection to the table. 
However, working with junior or newbie web developers have its own advantages. Let us discuss if you should hire a newbie or an experienced web developer. 
1.Newbie Web Developers
Experienced web developers are in great demand, and therefore, their pay scale is also higher. Usually, it is difficult for startups and small companies to hire experienced web developers because of a limited budget. 
On the other hand, there are many junior and freshly graduated web developers. You can hire a competent newbie on a negotiated reasonable package. 
Moreover, when you hire newbie developers, they learn to work according to your methodology. They grow with you and are easy to adapt to your work culture and ethics. 
In simple words, you may need to pay more attention to the quality assurance of work while working with newbie web developers, they are cost-effective and, usually, more enthusiastic. 
2.Experienced Web Developers
If you are a medium-sized or established company that like to have a high-quality and top-notch website, working with an experienced developer is beneficial for you. 
When you work with experienced web developers, they already have knowledge of many things and you don't need to spoon-feed them. It will help you to save your time and invest it in other parts of your business. 
Most experienced web developers also have good know-how about web designing. They can help you build a custom design to give your product a unique look complementing your brand. 
As discussed earlier, search engine optimization has a great role in the online success of a business, experienced developers already know how to incorporate the best SEO practices while building a website for you. Therefore, you get a product that is compatible with the SEO techniques required to rank higher on the SERP. 
Hiring an experienced web developer might cost you a bit more money, but you get a quality product within a given time frame. 
Building a website could be an annoying and expensive experience for you. However, a website is a basic connection between your business and your customers, and therefore, it should be of top quality with a great user experience.
You have to select a web developer or a team of web developers on the requirements of your business, the outcome you need, turnaround time, and of course your budget. 
No matter you work with anyone for your website, you need to keep an eye on the functionality and credibility of your website.